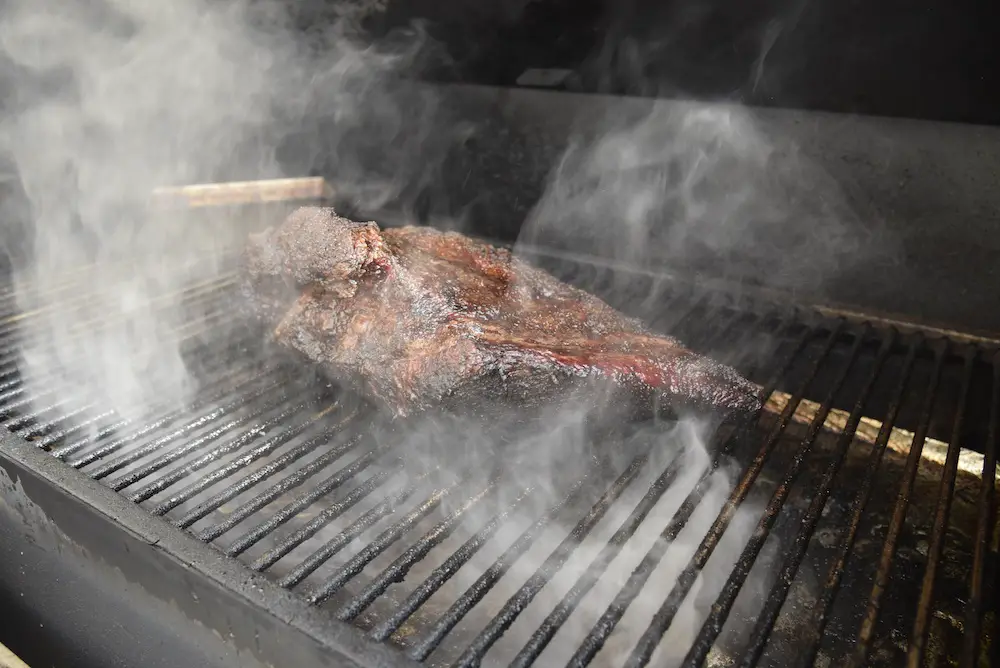 Do you want to smoke your meat to perfection? And desire the whole process to be simple yet effective?
Do you love hosting and smoking for a considerable group of friends and family? And want it to be a big hit?
It's not easy to find a smoker that meets all the requirements you are searching for without breaking your bank, but this Louisiana Grills Vertical Pellet Smoker review will prove otherwise.
No matter what you are looking forward to cooking—smoked chicken, turkey, ribs, steaks, or bacon—this smoker is designed to help.
All you need to do is get the best rubs, prepare your meat and shove it in the vertical grill smoker, and you'll get the exquisite, precious, smokey flavor we all crave for.
Note: most links in this article are Amazon.com Affiliate links, see Affiliate Disclosure, thank you.
Louisiana Grills Vertical Pellet Smoker Review 
This Louisiana Grills smoker comes in a vertical design with the burner at the bottom.
The design allows for an even distribution of smoke and flavor until it reaches the top and exhausts.
With its glass door and silver hammer toned porcelain-coated, corrosion-free, and double-wall insulated body, the smoker is a beauty on its own.
This vertical pellet smoker is very easy to use with its digital control panel, a knob for temperature options, and two built-in meat probes for internal temperature monitoring of your meat.
Who Is This Smoker For?
You're going to love this smoker whether you want it for a family of two or you like having house parties and want to smoke the house.
The massive smoker can accommodate a great deal of food for you. You don't need to look for another smoker to cater to the needs of the grand family barbeque.
You get to experience tender, vibrant, and genuine wood flavor with the Louisiana Grills Wood Pellet Vertical Smoker.
This innovative vertical pellet smoker provides aromatic, smoldered food both swiftly and proficiently.
What's Included?
The Louisiana Grills Vertical Pellet Smoker comes with six cooking racks, a water tray, a grease spill tray, two in-built meat probes, and a sturdy cover for the unit.
There are four caster locking wheels, panels, wire guard, smoke exhaust, and screws included, along with the manual for easy and hassle-free assembly.
You can watch the unboxing of the Louisiana Grills Vertical Pellet Smoker here.
It features all the included accessories, assembly tools, and a step-by-step guide for easy setup.
Overview of the Features 
Let's get into the features of  Louisiana Grills Vertical Pellet Smoker in detail.
With 2,059 square inches of cooking space and six adjustable cooking racks to put your meat on, this smoker can handle family dinners and multiple functions affluently. 
Water Tray and Grease Spill Tray
A water tray is available for any spill during the smoking process.
You can use the liquid, which is rich in smoky flavors, for making sauces.
If, somehow, the spill escapes the water tray, an additional grease spill tray is present to take the load.
The Louisiana Grills smoker comes with a large glass door that ensures a clear picture of what's going on inside the smoker for you. No more peek-a-boos!
Pellet Hopper With Cleanout Hopper Window
You get a pellet hopper, which can hold up to 60 pounds of pellets, to guarantee an uninterrupted, continuous process of smoking for hours.
Double-Walled Insulated Steel Construction
With this double-walled insulated unit, there will be no heat loss.
Thus, uniform temperature and smoke consistency are maintained, making the tenderness and succulence of flavors certain.
Don't worry about undercooked food anymore.
The two built-in meat probes tell you the internal temperature of your steaks, ribs, or any other novelty you want to enjoy.
LCD Display With a Temperature Control Knob
You can control the temperature you want in the smoker ranging from 150 °F to 450 °F.
The fan-assisted convection cooking ensures that your food is cooked to perfection.
The LCD displays the actual temperature, hotness level you chose, and the internal temperature of the meat you've connected to the meat probes.
No more guessing!
The smoker unit is heavy, but you don't have to worry as it comes with locking wheels.
It makes the movement and maneuverability of the smoker extremely stress-free.
How to Use This Pellet Smoker
Before even getting your hands on this pellet smoker, you would want to know if it is easy to use.
Thankfully, this smoker comes with a manual that includes instructions on how to assemble and use it, and the unit is very user-friendly.
You get a power button to turn it on and off, and there is a "Prime" button to start the pellets' burning process.
The more you hold the "Prime" button, the more the auger feeds pellets to the burn pot, in case you're aiming for thick smoke.
Moreover, a knob for temperature control from 150 degrees to 450 degrees is available as well.
All you need to do is turn the knob to your desired temperature.
Here is a detailed video to guide you on how to use this Louisiana Grills Vertical Pellet Smoker.
Alternative
The Louisiana Grills smoker is an excellent machine with a lot of merits.
However, if you want a smoker with similar qualities but at a lower price, you can check out the PIT BOSS Series Digital Vertical Electric Wood Smoker.
This vertical smoker comes with a large glass window for easy viewing, as well.
You get five ceramic cooking racks, a water tray, and a meat probe for monitoring the inner temperature of your meat.
The unit supports a double-walled blanket insulated exterior, which allows you to smoke your food from 100°F to temperatures reaching 400°F.
This smoker includes castor locking wheels, making it easier to move the unit around.
With the PIT BOSS smoker, you'll get almost the same features as the Louisiana Grills smoker.
The capacity is comparatively less, but so is the price.
We would recommend investing in one if you are looking for an inexpensive, quality option.
However, when it comes to choosing the best vertical smoker for you, you would definitely want to know the defining features among them and what exactly do they mean.
Do they mean an economical, affordable, and more efficient way of smoking the food?
Or does it mean that you'll be able to lock in the juices and get a more luxurious and smoky flavor from your production?
Final Thoughts
The Louisiana Grills Smoker is a large unit with colossal cooking space.
With it, you can smoke, bake, and prepare food for a considerable group of people.
Its vertical design allows more time and a richer smoky flavor in your food.
It is easy to assemble and use, too.
The automatic pellet feeding through the drill and the easy-to-comprehend controls make it a lot convenient for the beginners to use it, as well.
As with almost all pieces of tools and equipment, there is never a definitive best choice, but we would recommend the smoker to both beginners and experts equally.
We hope this Louisiana Grills Vertical Pellet Smoker review is helpful to you.
Happy smoking!