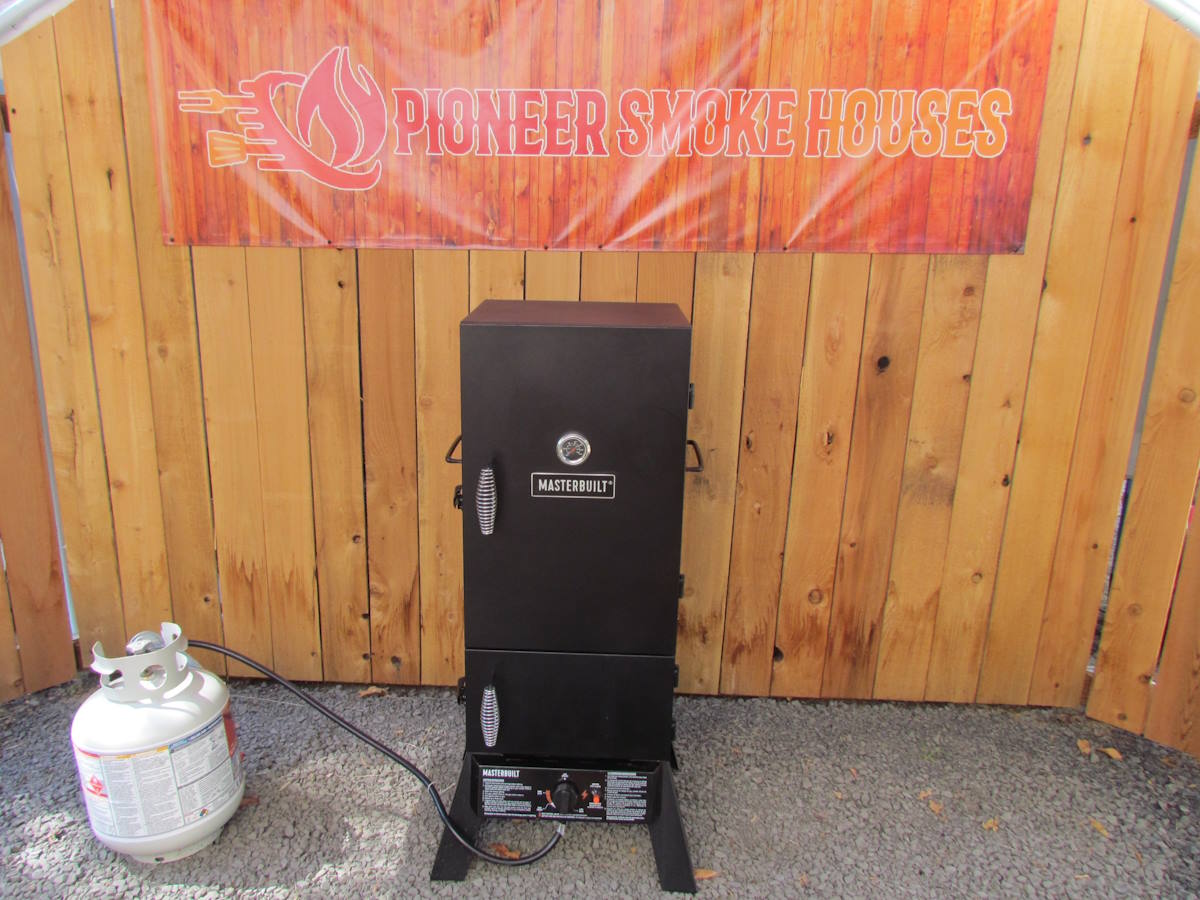 Smoking meats to achieve that mouthwatering tenderness and rich, smoky flavor is a time-honored culinary tradition that never fails to impress. However, mastering the art of smoking can be a daunting task without the right equipment.
That's where the Masterbuilt MPS 230S Propane Smoker comes into play. With its exceptional design and user-friendly features, this propane smoker is an excellent choice for both beginners and seasoned BBQ enthusiasts.
Here, we'll explore the Masterbuilt Propane Smoker's features and how they help you unlock the secrets of mastering smoking techniques.
Note: most links in this article are Amazon.com Affiliate links, see Affiliate Disclosure, thank you.
The Masterbuilt Propane Smoker's Features- A Closer Look
Before diving into the features, let's briefly introduce the Masterbuilt MPS 230S Propane Smoker. This remarkable smoker is a part of the Masterbuilt MPS series, known for its efficient and convenient outdoor cooking solutions.
Built with durability and ease of use in mind, the MPS 230S combines the convenience of propane-powered operation with the authentic smoky flavors of traditional charcoal smokers.
Now, let's explore how this smoker can help you become a smoking virtuoso.
1.      Adjustable Temperature Control
Achieving the perfect temperature is the cornerstone of successful smoking, and the Masterbuilt MPS 230S excels in this regard. Equipped with a user-friendly control panel, this smoker lets you easily adjust the temperature. The built-in thermometer ensures optimal cooking with fewer chances of unevenly cooked meats.
2.      Ample Cooking Space for Versatility
One of the standout features of the MPS 230S is its generous cooking space. With four adjustable chrome-coated smoking racks and 732 sq inches of cooking surface, you'll have ample room to smoke various meats and vegetables simultaneously. This makes it perfect for hosting gatherings, parties, or family cookouts.
Smoke juicy ribs on one rack while preparing a flavorful rack of chicken on another. The versatility of this smoker empowers you to experiment with different smoking techniques and cater to varying tastes.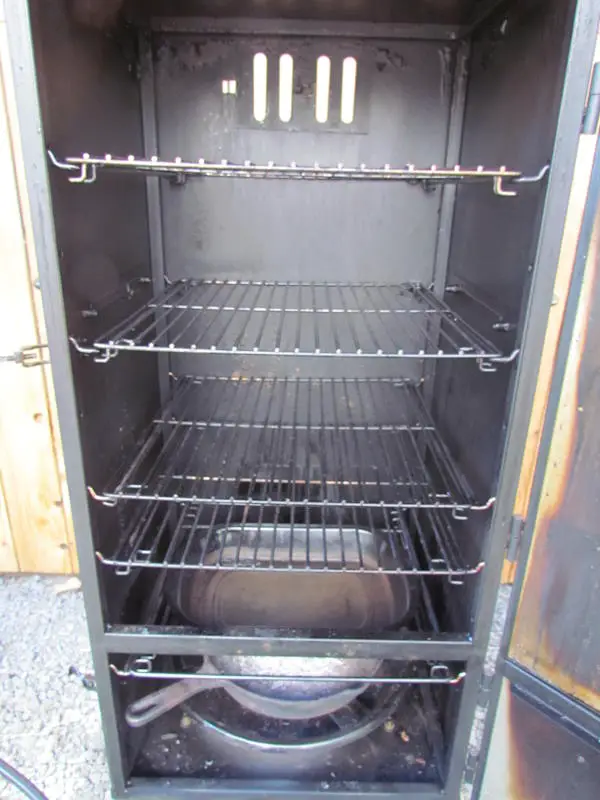 3.      Quick and Easy Setup for Hassle-Free Smoking
Unlike traditional charcoal smokers that require time-consuming preparation, the Masterbuilt MPS 230S Propane Smoker offers a quick and easy setup. Simply attach a standard propane tank, and with just a push of a button, you're ready to start smoking. This convenient setup saves you valuable time, allowing you to focus on perfecting your recipes and spending quality time with family and friends.
4.      Included Water Pan
If you want to add moisture to your food, then this smoker comes with a water pan that is perfect for the job. During the preheat phase, fill half of the pan with hot water, and you will be able to keep the surface of your food nice and moist without much trouble.
The water pan also helps stabilize the cooking temperature by increasing the smoker's thermal mass. You can also get the same without water by filling the pan with lava rock and covering it with foil.
5.      Portability for Cooking Adventures On-the-Go
The MPS 230S propane smoker is designed with portability in mind. Its compact size and built-in handles make it easy to move around, making it an ideal companion for camping trips, tailgating events, or any outdoor adventure where delicious smoked delights are a must-have. Take your smoking skills on the road and impress everyone with your culinary prowess.
6.      Ideal for All Skill Levels
Whether you're a novice or an experienced pitmaster, the Masterbuilt MPS 230S Propane Smoker caters to all skill levels. It's user-friendly design and straightforward operation make it an excellent choice for beginners venturing into the world of smoking. At the same time, its easy temperature control and ample cooking space offer seasoned smokers the versatility they need to explore advanced smoking techniques and push culinary boundaries.
7.      Temperature Monitoring Made Simple
Monitoring the internal temperature of the MPS 230S Propane Smoker is simple with the Built-in door thermometer. The thermometer is at the perfect height to give you a reading of the preferred cooking rack. This thermometer is also remarkably accurate compared to other smokers in this category.
8.      Expand Your Culinary Repertoire
The Masterbuilt MPS 230S Propane Smoker allows you to explore various smoking techniques beyond traditional BBQ meats. Smoke cheese to add a smoky touch to your cheese platters, or experiment with desserts like smoked apple pie for a delightful twist.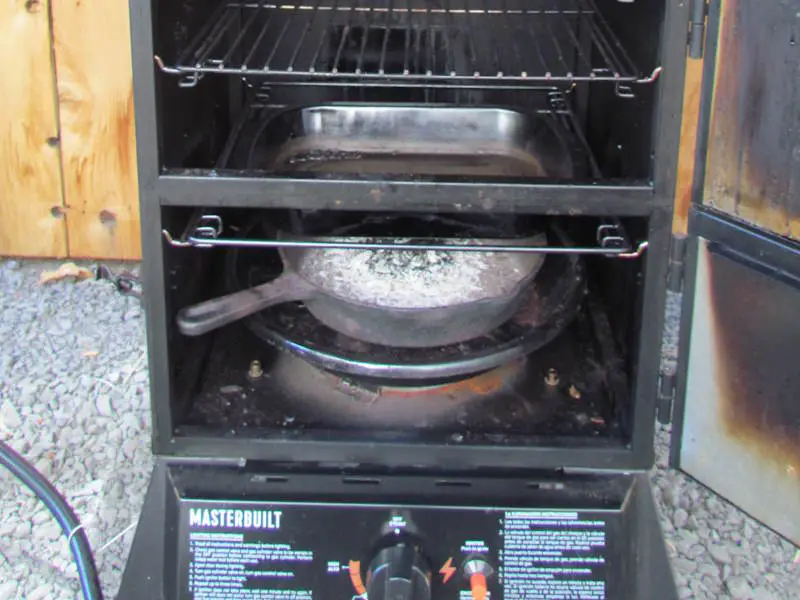 What Will Improve the MPS 230S Propane Smoker?
Every smoker could use a few improvements to turn out the best smoked food. The MPS 230S Propane Smoker is no exception to this rule, so let us break down a few areas that could benefit from modifications:
1.      Wood Chip Pan
The lack of a true woodchip pan is the biggest lacking of this propane smoker. This can be solved by simply adding a 9-inch, thick metal or cast iron pan to smolder the woodchips in. This is because the included fire disk is intended to act as a buffer between the burner and the woodchips.
There are slots allowing the fire from the propane burner to reach the woodchips, so they can burn and produce smoke. However, what actually happens is the entire load of woodchips tends to ignite, causing huge temperature spikes and dirty smoke, or worse, a smoker fire.  
2.      No Removable Drip Tray
Although the MPS 230S propane smoker doesn't have a removable drip tray, you can still make do with a small cookie sheet or a disposable foil pan. The included water pan will also catch a good amount of the juices or oil that drips down to the center of the smoker.
3.      Monitoring the Food's Internal Temperature
Although the MPS 230S Propane Smoker doesn't come with a built-in meat probe thermometer, it is easy to use wired probes with the vertical design. You can drop the wire out of the door on the bottom hinge side for easy use. The probe thermometer's wire will be out of the way for easy use, and it will ensure your meat is cooked evenly.
4.      Additional Venting
It goes without saying that good flow is key to good food, but you must balance that with proper cooking temperature. Adding a few small vents will increase airflow and reduce the chance of bitter smoke. A vent can be as simple as drilling some ¼ inch holes one inch from the bottom of the smoker.
Don't drill holes in the middle of the wall or top, as you will release heat and smoke. You can also easily plug a small hole with bolts, nuts, and washers.
Overall, this smoker can easily be modified and benefit from a smoke generator or other devices to cold-smoke cheese. Smoke generators also will make long cooks more convenient by maintaining consistent smoke production during extended cooks.
Final Thoughts on the Masterbuilt Propane Smoker's Features
The Masterbuilt Propane Smoker's features are an excellent choice for outdoor cooking. Whether you're hosting a backyard cookout, enjoying a camping trip, or simply seeking delicious smoky delights, the MPS 230S is your reliable companion.
Unlock the secrets of smoking techniques with Masterbuilt propane smoker features and embark on a journey of culinary excellence. For more expert advice, a wide range of smokers and grills, and a plethora of delicious recipes, visit Pioneer Smoke Houses.