Smoking potatoes in an electric smoker is easy as can be and usually can be treated just like any meat you would smoke. No matter the hundreds of different ways of preparing them, whether it is scalloped, roasted, or even baked, the smoking process will be easy and seamless. One of the best things about smoking potatoes in an electric smoker is that you can usually smoke them with the meat you are preparing as well.
All you really need to do is maintain the smoke and heat levels constantly just like you would when smoking any type of meat. But an electric smoker will do most of that work for you, so it really is a simple process.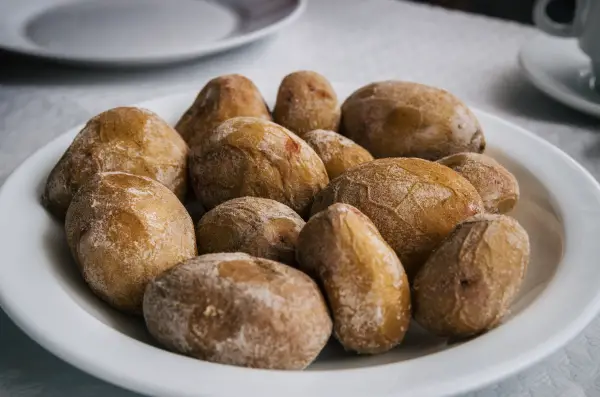 Smoked Bakers (Baked Potatoes)
Of all the different types of potatoes and ways to prepare them in the smoker, baked potatoes are probably the simplest way. There are very little prep work, hardly any ingredients, and excellent end product.
Ingredients
4 Large Russet Potatoes or the potato of your choice
¼ cup vegetable oil
2 tbsp. Kosher salt
2 tsp. Course ground black pepper
Directions
Turn the smoker on and preheat it to 250 degrees. You may use any type of wood you like, but most people, like to either use a subtle smoke-flavored wood like maple or fruit woods.
Place the potatoes in a bowl and cover with the oil completely with your hands. Next, season them with salt and pepper making sure to coat the entire outside of the potatoes.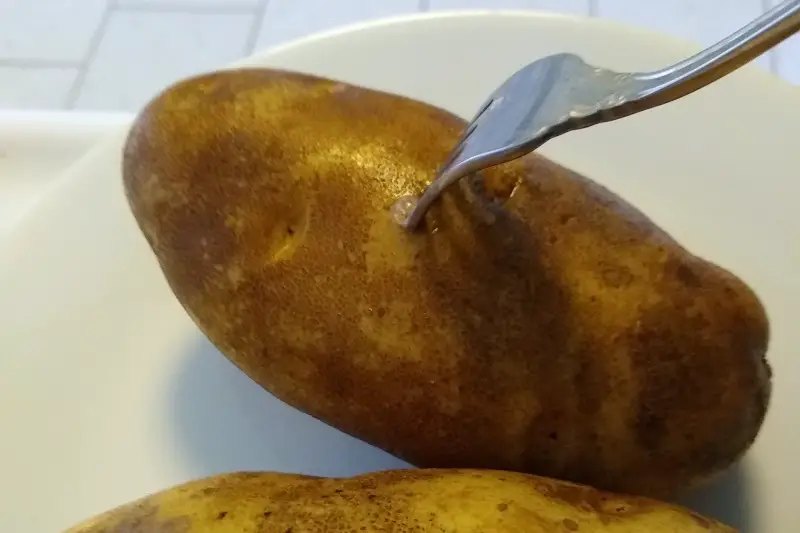 Using a fork, pierce the potatoes in several different places to allow steam to escape during the cooking process. If you skip this step, the potato may explode. Place the potatoes directly on the rack or grill grate and allow to smoke for at least 2 hours. Or until the potatoes have become soft.
Remove the baked potatoes from the smoker and allow them to rest, but no more than 5 minutes before serving. If you need to hold the potatoes longer than 5 minutes then you can place them in a 165-degree oven to hold or wrap them in a large kitchen towel.
Check out our article How Long to Smoke Potatoes at 225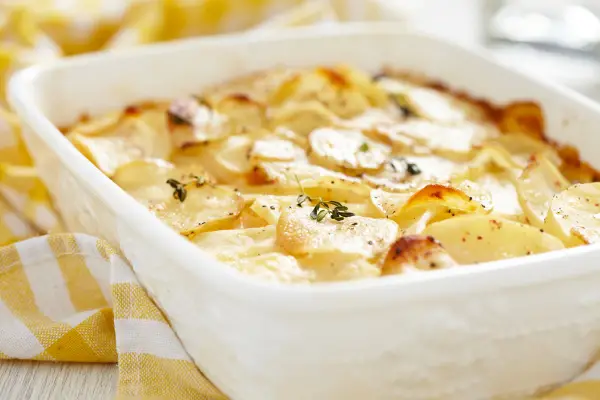 Smoked Scalloped Potatoes
Making scalloped potatoes in a smoker is really easy and one of the best side dishes you can make. You could, of course, use the boxed kind you get in the store and just follow the directions on the box but and double the time at 250 degrees. Or you can make scalloped potatoes from scratch and really impress your guests.
Ingredients
5 pounds of potatoes, washed and cleaned
1 cup heavy whipping cream
½ cup milk
½ cup butter
4 cups shredded cheddar cheese
2 tbsp. Kosher salt
2 tsp. Course ground black pepper
1 tsp. Paprika
2 tsp. Garlic powder
2 tsp. Onion powder
Directions
Using a mandolin, cut the potatoes uniformly into chips, slice them into one of the smaller attachments on your mandolin or potato chip style. Place the potato chips in cold water and make sure to rinse them thoroughly to get most of the starch off of them.
In a large saucepan, heat the rest of the ingredients together until everything is incorporated and the cheese has melted. Place the potatoes in a buttered 9 by 13 cake pan or baking dish and pour the cheese mixture over the top of the potatoes to cover completely.
Start the smoker and preheat it to 250 degrees with your favorite wood. Cover the dish with aluminum foil and place it in the smoker. Allow to cook for 2 hours checking periodically removing the foil after 1 hour. The casserole will be done once the potatoes have all become soft and most of the liquid has formed a cheese sauce.
Remove from the smoker and allow to rest for about 5 minutes before serving.
Potatoes are truly one of the easiest foods to smoke, check out our article The Easiest Meat to Smoke.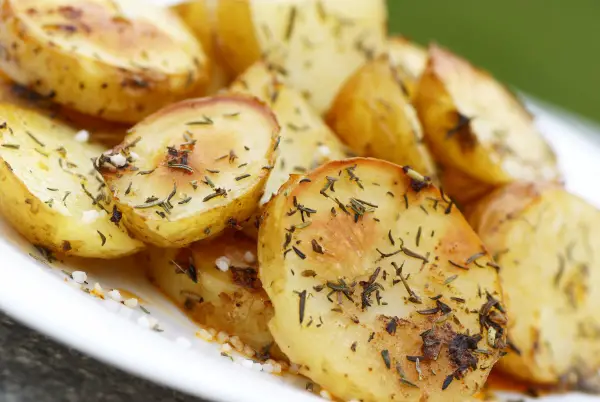 Herb Roasted Yukon Golds
Yukon gold potatoes are going to be a little sweeter and mild than other types of potatoes. They are the perfect ingredient to use when smoking potatoes in an electric smoker. Even though they are being smoked, they will still come out roasted. If you like your potatoes to be a little more roasted then try baking them in the oven after smoking them until they have reached the level of browning you desire. You can cut the Yukon potatoes up in four or more pieces if they are too big, but try to buy the kind that is smaller and cut them in half. Keeping the potatoes in larger chunks while smoking them will help them to hold their integrity.
Ingredients
5 pounds small Yukon Gold potatoes (cut in half)
½ cup vegetable oil
2 tbsp. Olive oil
3 tbsp. Kosher salt
1 tbsp. Course ground black pepper
6 cloves of garlic, minced
2 tbsp. Chopped fresh thyme
2 tbsp. Chopped fresh rosemary
Directions
Preheat the electric smoker to 250 degrees with your favorite smoking wood. Meanwhile, in a large bowl mix all the ingredients together well until the potatoes are completely covered in the oil and seasonings. You the potatoes the night before and let them sit in a bag with the herbs and seasoning overnight, it will help the potatoes to take on more flavor.
When you are ready to smoke the potatoes in the electric smoker, place them in a roasting pan with a couple of tablespoons of water to help keep moisture in the pan while smoking. Cover the potatoes with aluminum foil for one hour then remove the foil and allow to smoke for at least one more hour. The potatoes will be done when a fork is able to pierce them with light pressure.
Remove the potatoes from the smoker and allow them to cool down for 5 minutes before serving them.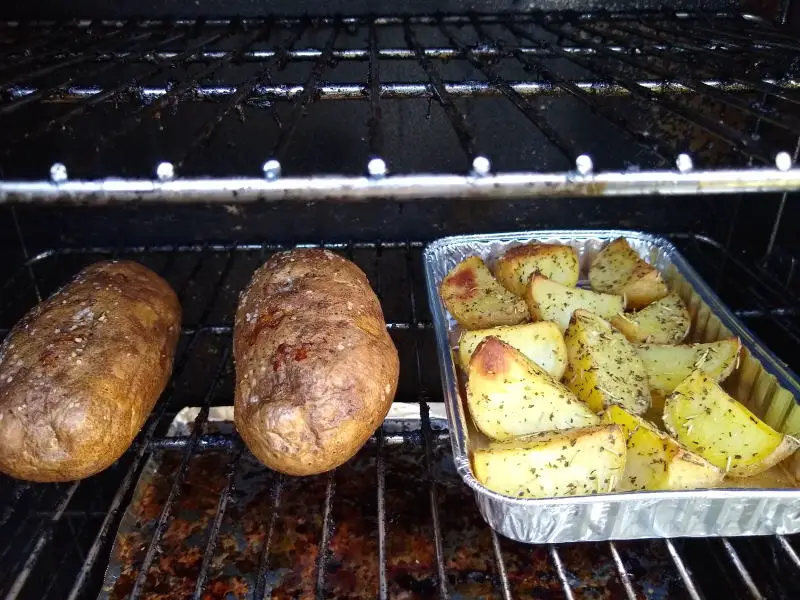 Check out our Smoked Potato FAQs
Conclusion
When it comes to smoking potatoes in an electric smoker, the possibilities are endless. Not to mention, incredibly easy to prepare and execute. An electric smoker can make the whole process foolproof.
Now let's all get to smokin'!