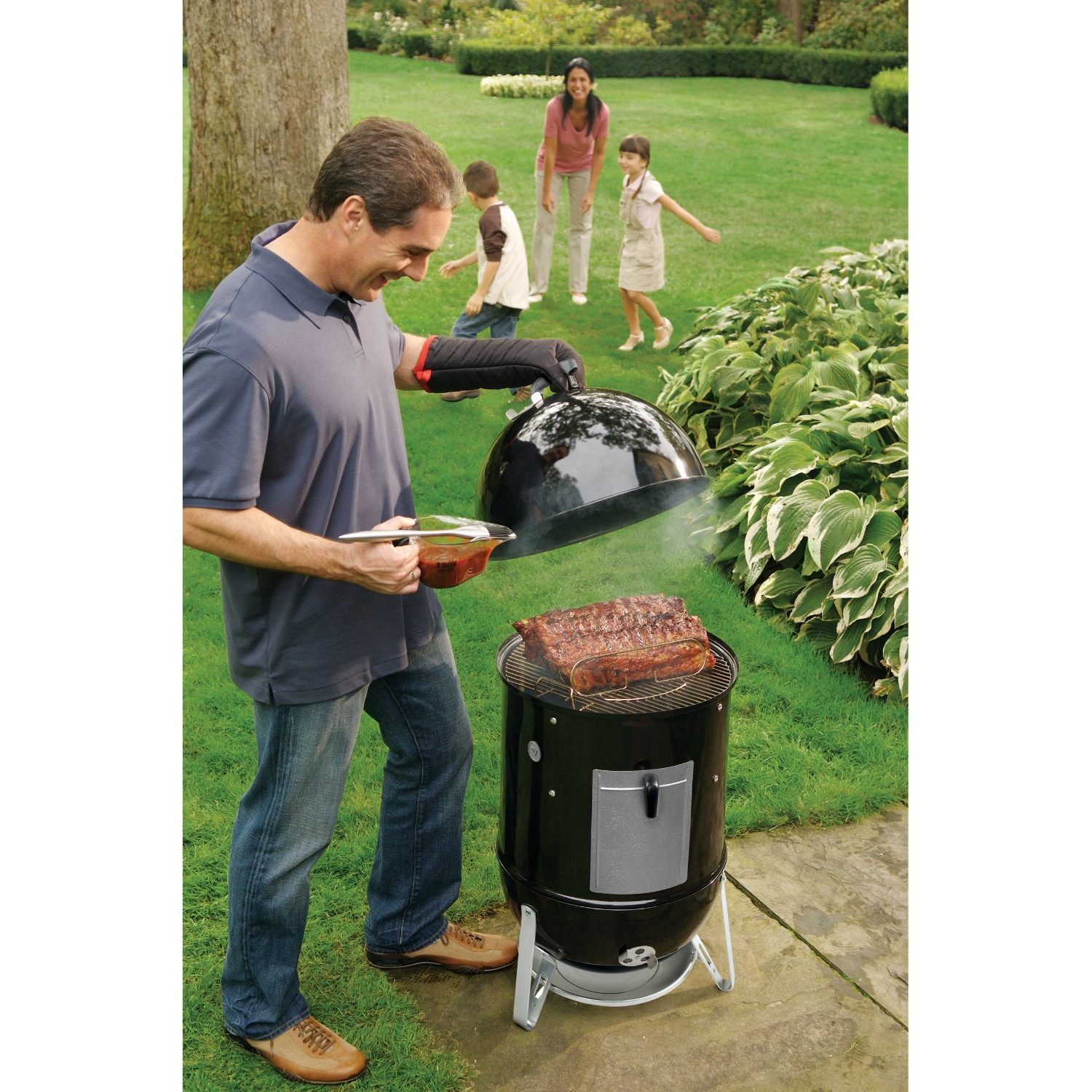 Charcoal smokers are your best bet for grilling meat with oozing with mouth-watering smokey flavor. This is because charcoal smokers are effective in trapping heat smoke inside the appliance, which makes it a top choice if you consider the flavor as one of the important aspects of grilling. This comes with a price, however, as charcoal smokers can be difficult and messy to use.
For instance, you have to stoke and kindle the fire before you put in the meat to grill. This would take 15 minutes or so. Afterwards, you need to constantly watch the meat grilling to ensure that the temperature is sufficient. Otherwise, you might have meat charred on the outside but raw inside (this is good if you like your meat rare) or your meat might be undercooked or overcooked.
If you're looking for something that's less messy and doesn't need supervision, you're better off with an electric or gas smoker. But if flavor wins above all, then stick to reading this article because you'll shortly read about the best charcoal smokers in the market.
What are the best charcoal smokers?
Weber Smokey Mountain Cooker Smoker 18.5 Inch
The Weber smoker is big enough to accommodate a whole turkey and an entire ham at the same time inside its bullet-shaped visage made of porcelain-enameled steel. Weber prides itself for being able to helps you achieve an authentic smokehouse flavor at home. It has two tiers that are big enough to cook a lot of food at once, enabling you to serve hungry guests in a jiffy.
PROS: It has a built-in thermometer that allows for easier monitoring of the smoker's temperature, as well as a water pan, individual vents on bowl and lid, heat-resistant nylon handle, and cover for added protection when not in use.
The porcelain-enameled water pan is there for water to convert to steam so the meat stays moist and tender while cooking. The upper and lower cooking grates are made of heavy-duty plated steel for durability. This product comes with a 10-year limited warranty.
CONS: Despite the good quality of Weber's product, they always run into quality control problems and bad customer assistance reports. New owners of Weber products reported missing parts and/or wrong parts shipped. There are many cases when Weber shipped the wrong size of grate or not shipped the grate at all, rendering the smoker useless. Customer support feedback varies too with some calling Weber's team unprofessional and rude.
Dyna-Glo DGO1176BDC-D Charcoal Offset Smoker
If you're looking for something that would grill a lot of goodies at once, check out Dyna-Glo's charcoal box smoker that comes with six adjustable cooking grates with 784 square inches of total smoking area. The box can hold a total of 100 pound of food at a time. The box itself is made of heavy-duty steel body construction with High Temp powder coat finish for durability and long life.
PROS: The smoker box features a dual door design that minimizes the heat loss in the major box where the smoking happens whenever you need to add wood chips/fuel in the smaller box. It also comes with a thermometer so you'll know if the heat you're getting is enough. There are vents on each side of the smoker, which helps for air circulation.
The box is made of sturdy materials that are solid and easy to put together. When assembled, it stands four feet tall and is over 70 pounds. It's a pretty affordable smoker for this size.
CONS: Owners reported that smoke comes out of the edges of the door. They recommended having it modified/fixed to ensure optimum grilling performance. If not done, owners said that they had experienced troubles keeping and maintaining heat due to poor airflow circulation inside the box.
Vision Grills Pro Kamado Barbecue Bundle Grill
This is definitely one of the expensive smokers in the market, but one of the best. The ceramic bowl is top-notch quality that has superior heat retention that results to more coal consumption and reduced ash. All ceramic parts come with a lifetime warranty while five years for all metal parts, 90-days for side shelves, 90-days for temperature gauge and 1-year for cover.
PROS: Although called a grill, this also functions as a smoker because of its ability to effectively trap smoke and heat inside the bowl. It comes with a stainless steel flip cooking grate, wide enough to fit a lot of meat inside. The package comes with a vinyl cover, two side shelves, electric starter, cooking stone and heat deflector. With the Kamado, you can do three things: Smoke, grill, and sear.
It comes with a calibrated top vent with dials that make setting the temperature and keeping it like that very easy. The lava stone is perfect for slow cooking and the result of every use is meat that is moist, succulent, and smokey. If you encounter problems, Vision Grills' customer support is helpful and quick to act.
CONS: The only con reviewers are saying is the difficulty of maintaining low and steady temperature for smoking. To remedy this, they had to stick close to the Kamado grill, which is quite inefficient especially if you have more important tasks to tend to. It's also really, really expensive for a grill/smoker, but you'll definitely get what you paid for.
Conclusion
Overall, charcoal smokers are great to have because they produce quality grilled/smoked meat that looks like it has been done by a pro. The result is juicy meat grilled to perfection with added smokey flavor. You can't get this flavor produced by grilling meat over charcoal grills as compared to grilling through gas or electric smokers.
There are also a lot to choose from, which won't burn a hole in your pocket. At below $300, you're sure that your money will get you something that will last you years of continuous usage. You don't have to splurge when getting the best charcoal smoker, as long as it does the job well and it's made of high-quality materials then go for it.